RDX S4 Armada Black Weightlifting Gym Gloves
Brand:

RDX
Availability:

3 week's

Product Code:

WGA-S4B
---
Maksājums
Nauda, Bezskaidrā naudā Swipe, Visa/MasterCard
Piegāde
Pašizvešana
Jūs varat izņemt šo preci no mūsu veikala pats
Omniva
Mēs piegādāsim šo preci ar Omniva piegādes pakalpojumu
100% naudas atmaksas garantija
Atgriešanā 14 dienu laikā
Feel the burn without feeling the sores. These ladies gym gloves are the ideal workout gloves for weight lifting training, bodybuilding, crossfit training or women's powerlifting. If you're an iron maiden in search of the ultimate armour, these gloves will not let you down. Made from surgical-grade materials, they prevent blisters and skin calluses so you can stack to the max without distraction. A sleek design contours to your natural anatomy, improved breathability gives you added dryness, and the anatomical pad design will boost your grip. Machine washable for convenience and slimline enough to slip into your gym bag.
Made from a high-grade, washable Amara fabric for comfort and durability
Unique glove design that prevents blisters, calluses or other skin irritation
Anatomical pad system for enhanced grip when working with weights
RDX® Coolmax Lycra for ventilation and to keep your hands healthy
Sleek and stylish ladies weight lifting gloves design to promote safe, natural movement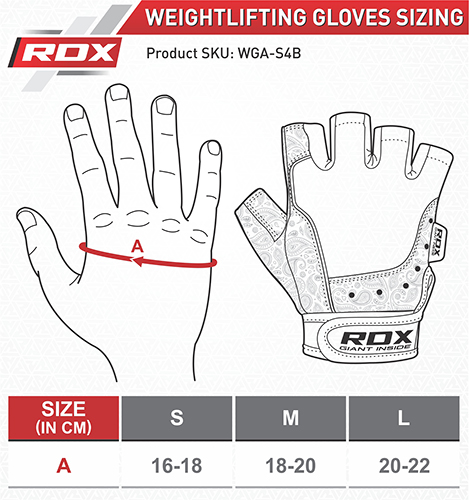 SIA "Berkon"
sniedz pakalpojumu - preču piegādi Latvijā un visā Baltijā pēc apmaksas saņemšanas.
Piegāde visām precēm pa Latviju ar
Omniva
ir
EUR 3.25
Piegāde Igaunija un Lietuva -
EUR 5.00

Lielgabarīta smagajām precēm (EUR 5.00 pa Latviju, Igaunija un Lietuva -
EUR 10.00
).
Preču piegādes laiks pēc apmaksas saņemšanas:
Ja prece ir noliktavā –
3 dienu laikā
Ja prece nav noliktavā –
21 dienas laikā..