Orbit Thai Pads by RDX
Brand:

RDX
Availability:

3 week's

Product Code:

APR-T3W
---
Maksājums
Nauda, Bezskaidrā naudā Swipe, Visa/MasterCard
Piegāde
Pašizvešana
Jūs varat izņemt šo preci no mūsu veikala pats
Omniva
Mēs piegādāsim šo preci ar Omniva piegādes pakalpojumu
100% naudas atmaksas garantija
Atgriešanā 14 dienu laikā
These elite Thai training pads are designed for pros or fighters looking to step up their game with pad drills. Engineered to withstand the most merciless training partners, these top end kick pads will give you complete invincibility and protection whilst helping to sharpen your stance and boost your core. Awesome features include unique gel layer and foam padding for double shock absorption, a curved design for perfect form, and an adjustable Hook-and-Loop closure to give you added stability. And made from indestructible Maya Hide™ leather with reinforced stitching, these training pads won't crumble under pressure.
From our DE-VOLCAN™ Ultra Edition range of elite boxing pads for amateurs or professionals
Made with Maya Hide™ leather for a durable strike pad that won't let you down
Shell Shock™ gel Equilibrium Sheet combined with Supremo-Shock Foam™ for doubled-down shock absorption and cushioning
Curved pad architecture with oval-shaped design to mimic the shape of your arm
Quick-EZ™ Hook-and-Loop strap for added shield security and adjustable comfort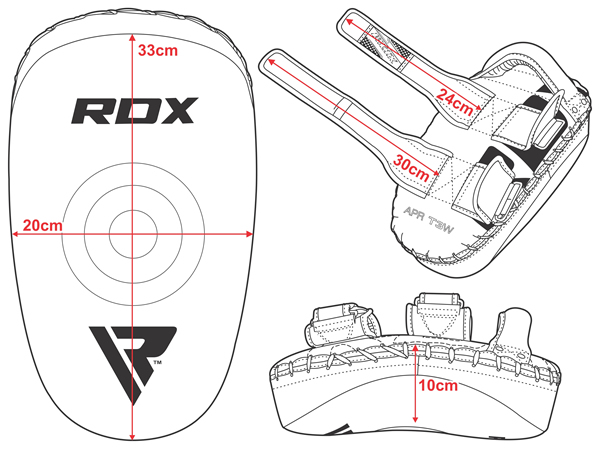 SIA "Berkon"
sniedz pakalpojumu - preču piegādi Latvijā un visā Baltijā pēc apmaksas saņemšanas.
Piegāde visām precēm pa Latviju ar
Omniva
ir
EUR 3.25
Piegāde Igaunija un Lietuva -
EUR 5.00

Lielgabarīta smagajām precēm (EUR 5.00 pa Latviju, Igaunija un Lietuva -
EUR 10.00
).
Preču piegādes laiks pēc apmaksas saņemšanas:
Ja prece ir noliktavā –
3 dienu laikā
Ja prece nav noliktavā –
21 dienas laikā..